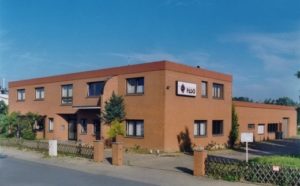 Since its foundation on 1995, our highly qualified team in Paso Präzisionsmaschinenbau GmbH has developed over 30 machine series.
This year we presented the "Unique" Series. With the newest technology paired with our current innovations at Paso, it will meet market demands in many areas including air-conditioning, microtechnology, and ultra-precision processes.
Paso's philosophy is to be flexible, offering "tailor-made" products, rather than off-the-shelf. We are able to respond to any special application our customers have in mind, by customizing the machines according to their specific requirements. In particular, work areas from 300 × 300 mm up to 1500 × 3000 mm are possible, offering full flexibility on size constraints.
Our customer focused approach has allowed us to reach not only the demanding European market; PASO machines are put to work at top manufactures in India, Iran, Israel, Thailand, South Korea, Australia and South Africa.
With exports being the majority of our total sales, PASO is one of the world leaders in the manufacturing of high quality CNC machines.
Most notably, PASO has supplied machines to some of Europe's most important companies. References include ABB, Daimler, VW, Daewoo, Scania, Schindler Elevators and the German Aerospace Center, as well as Münzprägstätte (a Euro-coin mint).
The structures needed for micro-technology and ultra-precision-machining cannot be produced profitably by common machines anymore. PASO focuses on high-precision axis-systems, the highest machine- stiffness and infinitesimally small vibration.
Through accuracy of the controllers deployed and the CNC-Control-Unit-dependant resolution (pico-interpolation) machining with an absolute precision of ≤ ±2μm and rerun-precision of ≤ ±4μm is possible.
Components crucial to achieve these demanding requirements are manufactured within our own production facility to ensure precision is met on time, every time.
Our in-house production philosophy and continued quality inspection guarantee the highest precision for years of uninterrupted use.
Outsourced items like controllers, spindles, etc, are manufactured in cooperation with first-class renowned German companies – ensuring highest quality from the ground up.
Many clients have multiple PASO-machines in use – proof indeed of the machine's high reliability.
Furthermore the company's on-site service department assures the very best support.