At Paso, chip and dust management is based on several pillars:
– Through a highly effective extraction technologies, as described under the heading extraction systems
– By a large selection of suckers, corresponding to the material to be sucked off
– By adapting the layout of the machine housing in terms of volume extraction
– By appropriate transitions directly on the base plate of the machine and the integration of containers for the disposal of chips directly in the substructure of the machine
– By chip conveyor
Advantages:
– Self-developed extraction technologies and highly effective chip evacuation ensure almost chip-free work
– Time-consuming cleaning of the machine is eliminated
– mechanically sensitive surfaces of the materials to be processed are not damaged
– By fully automatic retraction and extension of the suction results in a further time savings
– All machine functions, for ex. scanning, measuring, etc. are fully executable
– Minimal spray cooling systems can be used without any problems at the same time as the extraction and ensure effective cooling of the components
– The combination of extraction and minimum quantity cooling works as far as possible without residue
Characteristics:
– Programmatic retraction and extension
– Surface distance precisely adjustable
– Non-contact suction
– Compatible with tool changer station and precision sensor
– Can be used with milling spindles from HSK-E 25 to HSK-E 63
– Minimum quantity lubrication possible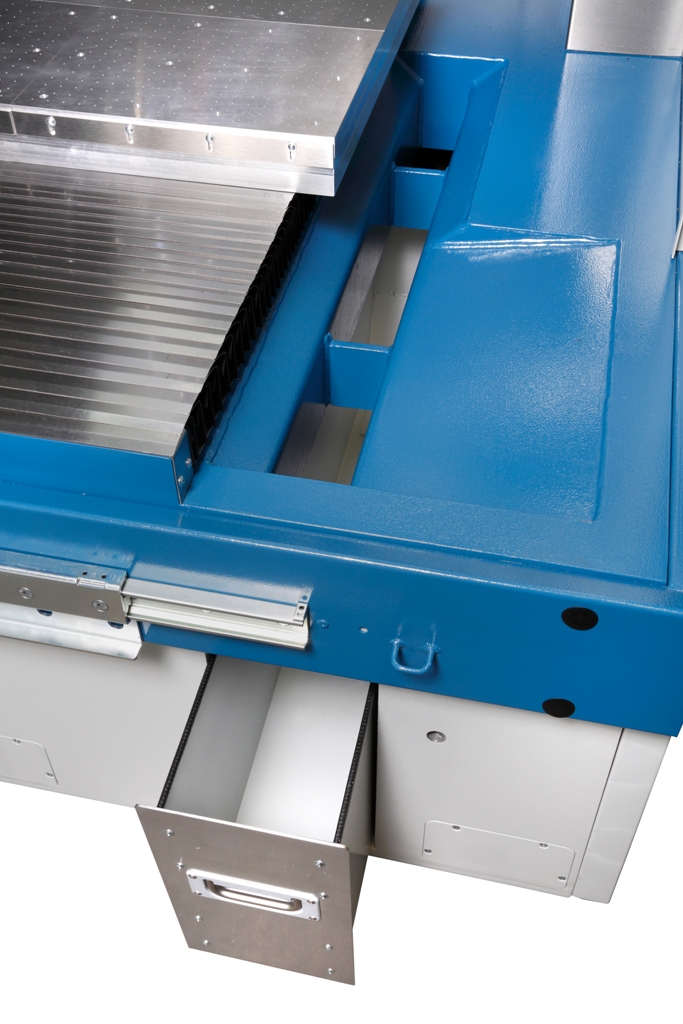 – Integrated drainage surfaces on the base plate
– suitable for both chip management and wet processing
– Transitions from the base to the receiving container
– Removable container integrated in the under frame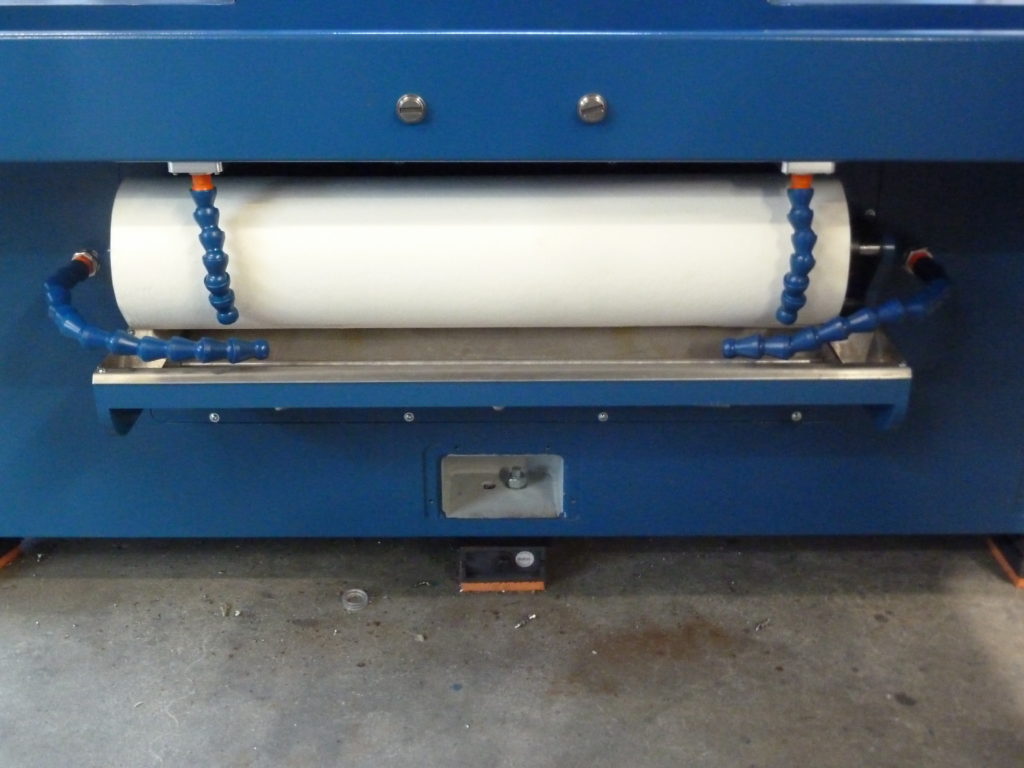 Here a customer requirement was consistently implemented.
The cooling liquid together with the chips are flushed onto the fleece of the collecting trough.
The catch basin was designed so that the standard rolls with the fleece can be used from the customer.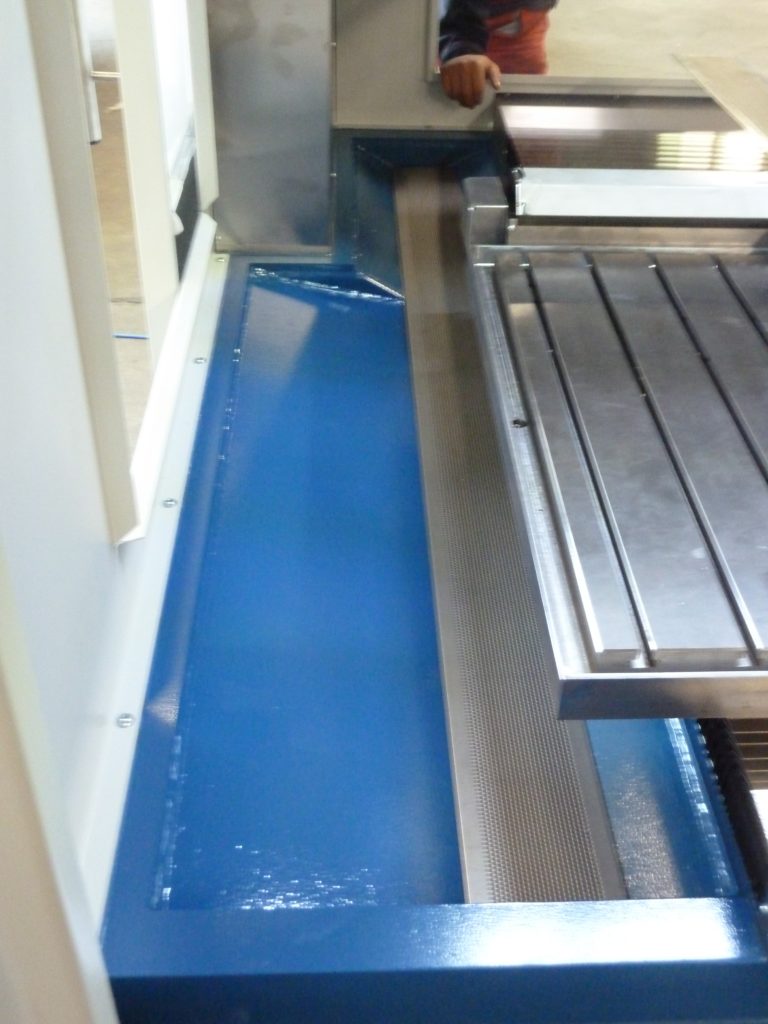 Picture shows an integrated drainage area with sieve filter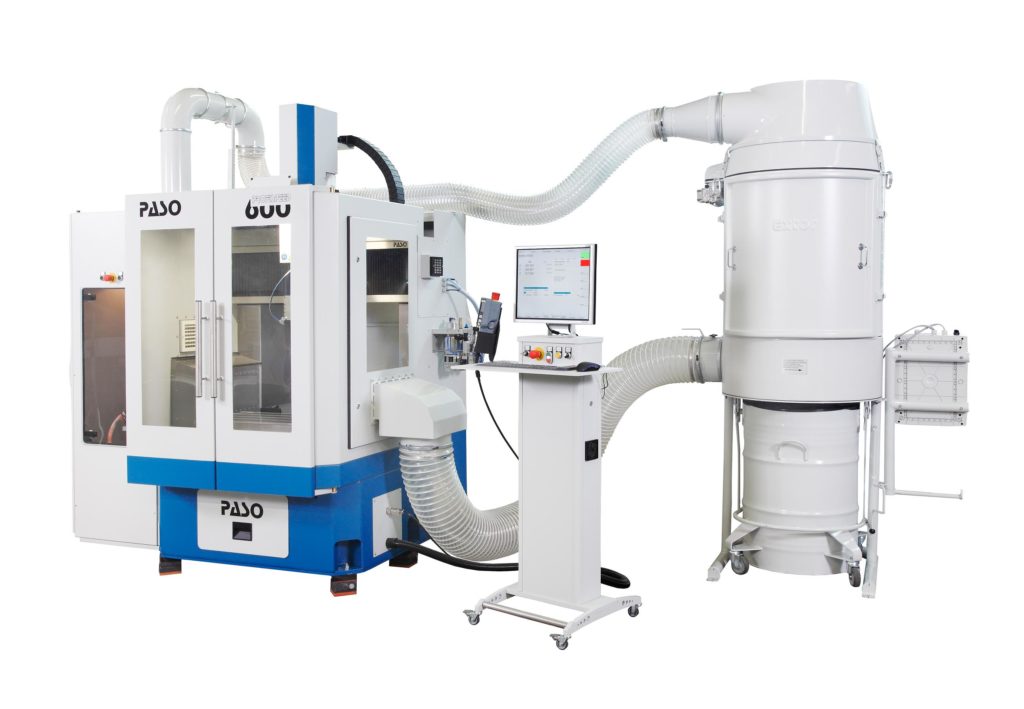 If there is a possibility of extraction in the volume the layout of the guarding enclosure is adapted to the processing task by
using a concept of suction and blowing to create a vacuum inside the machine.
Chip Management
Basically, there are different concepts here:
– Hinge belt conveyors consist of a conveyor belt made of segments which are connected by means of hinges. Often at regular intervals perpendicular to the hinge rib (cross member) attached which ensure the take-out of the chips.
– Scraper belt conveyors transport the chips over chains with cross bolts, which scrape the chips from the bottom of the housing.
– Magnetic belt conveyors contain permanent or electromagnets below the conveyor plate webbing which fix the chips even on slopes on the belt. At the end of the transport route the magnetic effect is canceled and the chips are thrown off.
– Screw conveyors transport the chips via one or more screw conveyors.
– Plate belt conveyor, for transporting chips and small parts
Depending on the task suitable systems can be integrated in the machine concept