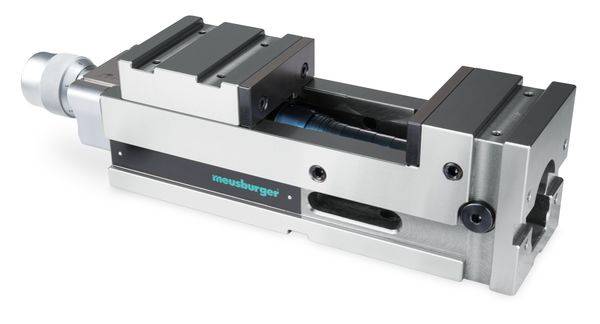 Spanntechnik
Für jede Anwendung oder Aufgabenstellung können wir geeignete Spannmittel anbieten.
For example:
– Präzisions- Schraubstöcke
o Hydraulic
o Pneumatic
– Spannmodule
– Zentrierspanner
– Multifunktionsspanner
– Pneumatikspanntechnik
– Kurzhub- Spannelemente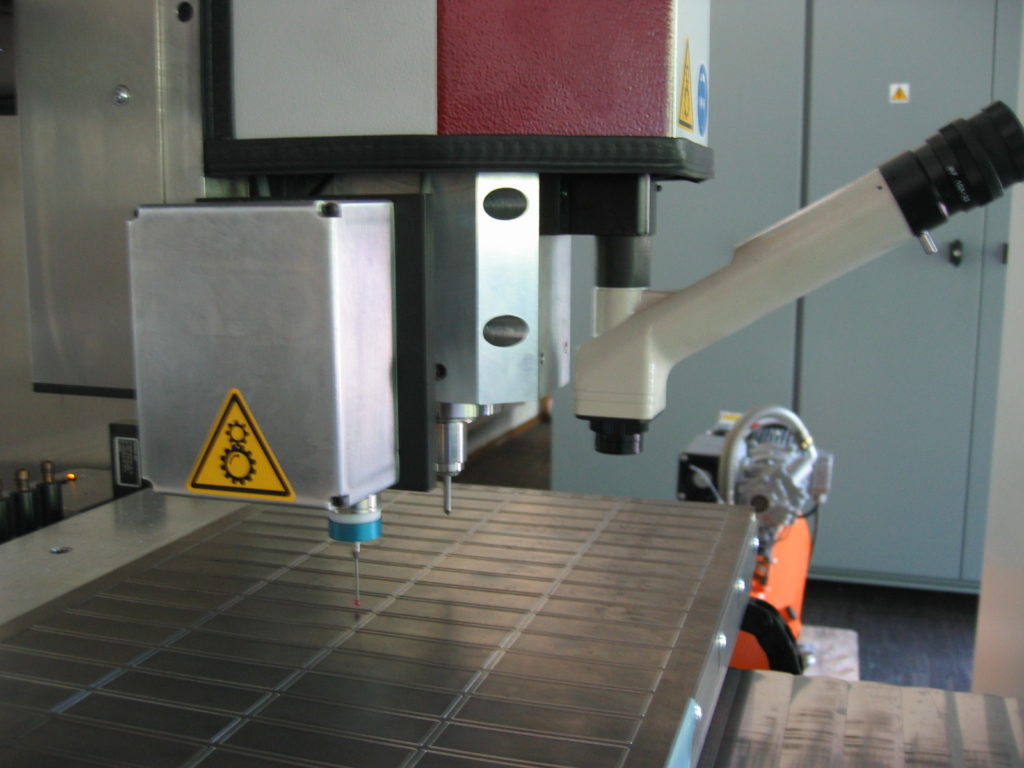 Zentriermikroskop
Anwendungen können es erforderlich machen, dass die Qualität der Bearbeitung über ein Mikroskop geprüft wird, bevor das Werkstück von der Maschine genommen wird.
Ein gutes Beispiel ist hier die Bearbeitung bzw. Schärfung und Zentrierung von Schneid- und Stanzblechen.
Das Mikroskop kann über die Spannzangenaufnahme und die Frässpindel aufgenommen werden.
Für die Vergrößerung stehen je nach Anwendung, unterschiedliche Auflösungen zur Verfügung.
Standard ist eine 10- fache Vergrößerung.
Das Mikroskop verfügt über eine eingebaute Strichplatte und ein Fadenkreuz.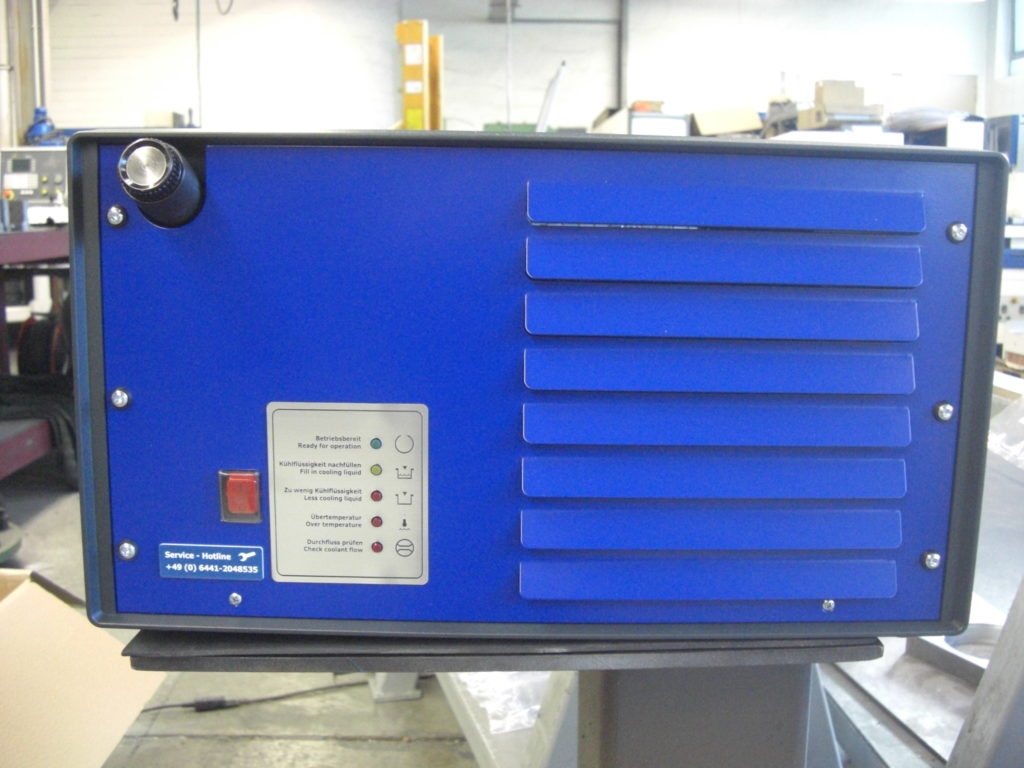 Increased temperature stability
Applications that require the highest precision require special measures in terms of temperature stability.
A good example here is the cooling of vacuum systems to prevent or counteract an expansion of the entire system over the temperature stability in the range of +/- 0.1k temperature hysteresis.
The same applies to milling spindles.
Again, the expansion of the spindle can be counteracted by an increased temperature stability.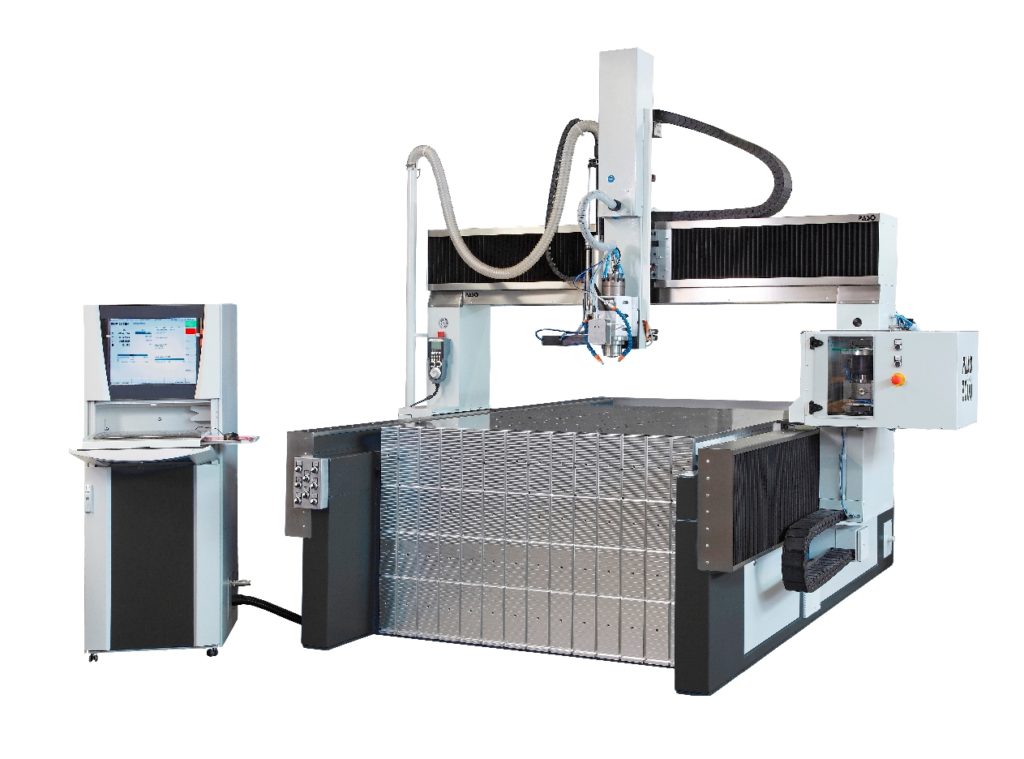 Front-side clamping
– by the front-side clamping you have the opportunity
Components that are higher than the portal passage, on the front to stretch
– possible width of the components, from 1000 to 1500mm x 100mm
– An assembly of the components is possible via grooves and tapped holes
– Material: aluminum
Option green processing
Abrasive materials, such as graphite or high-performance ceramics require special measures to protect the mechanics.
Here it is not just done with the fact that guide systems and ball screws are protected with bellows.
Our Option includes:
• black chromed guide systems
• sharp-edged holes in the guide system, thus no dirty edges after inserting the brass caps
• Guide carriage with K1 and 2 x rubber and extra thick steel scrapers each
• special internal scrapers
• Ball screw drive with contour wiper
• additional protection of ball screws with circumferential bellows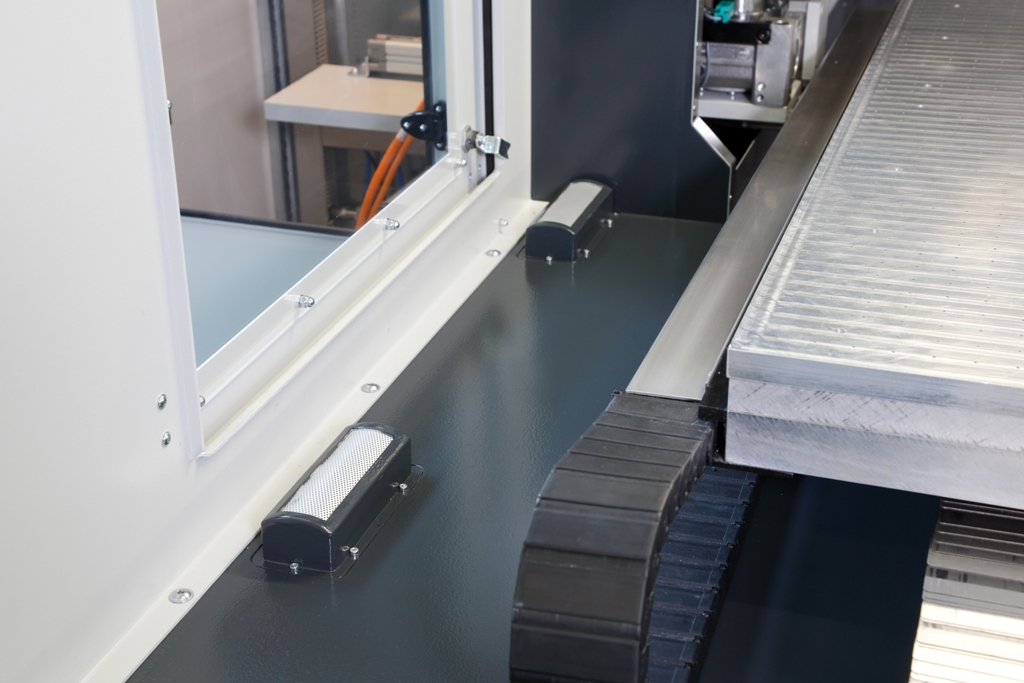 Option Climate
Market requirements with regard to precision in milling operations increase from year to year.
Whether it's in tool and mould making,
micro-machining or medical technology, tolerances are getting increasingly tighter.
The demands made on machine technology are
therefore also more complex and costly.
High-precision drive and control technology in conjunction with precision guides are certainly the basis for precision manufacturing but regrettably they are not always the perfect solution.
All users are aware of the issue of temperature drift on processing machines in their day-to-day work, especially with the precision manufacturing of parts with a tight tolerance and this is often a problem that is very difficult to solve.
There are many approaches both inside and outside the machine to control this temperature fluctuation.
On the one hand, machines for precision manufacturing are installed in air-conditioned rooms or temperature tables in the control system should compensate for the geometric shifts; others try to imply that they have a stable temperature through the use of appropriate base materials, such as granite, and are therefore resistant to fluctuations in the ambient temperature.
It is often forgotten that the axis guide systems and their powertrains are still made of steel and firmly fixed to the base.
Highs and lows may occur rather than stable positioning and traversing movements on the condition that the body should remain stable and the guide systems should be subject to unavoidable linear expansion.
The other option of stabilising the ambient conditions is costly and time-consuming.
A further aspect of temperature drift is the heat sources within the machine.
There are approaches and solutions here that partially provide these heat sources with cooling systems at various points, such as milling spindles, driven nuts, etc., but do not detect the entire machine body.
PASO is taking the opposite approach with its latest development.
he machine itself is air-conditioned so there is no need for the machine environment to be air-conditioned or empirically determined compensation tables to offset the shifts.
The basis for this is a climate system with a heating and cooling function that is integrated into the machine.
The entire machine body and working area are maintained at a constant temperature using sophisticated air and cooling channels.
It's not just during the day that an increase in temperature is eliminated but the machine also remains at a constant temperature overnight and at the weekend if the room temperature drops. A static shift in the machine geometry as the greatest unknown factor is therefore ruled out and the machine requires no time-consuming warm-up phases.
Initial experiences with the HSC1250, as well as and specifically under heavily fluctuating ambient temperatures, demonstrate the accuracy of this approach and are a further example of the fact that PASO has focussed on the demands of the market for many years and has reacted to its requirements with innovative solutions. This once again underlines PASO's achievement potential and the focus of the business since its inception, incorporated into the corporate philosophy, is to supply its customers with a project-based solution rather than an off-the-peg standard machine.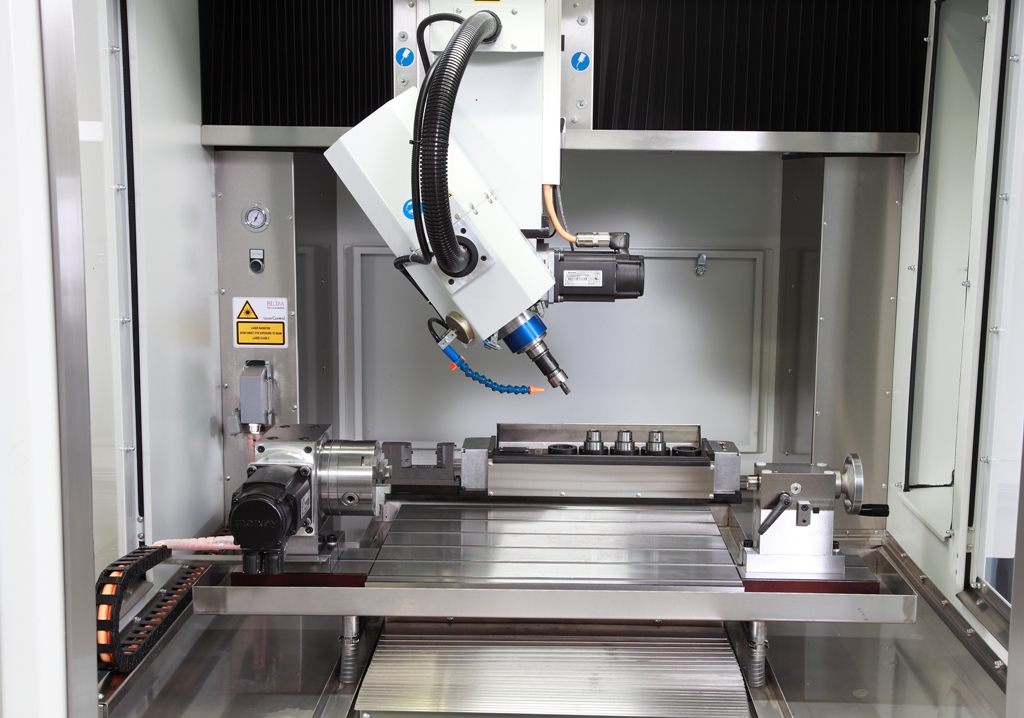 Option Nassbearbeitung
Anwendungen und Bearbeitungsaufgaben können es aus strategisch- oder wirtschaftlichen Gründen erforderlich machen, auf Nassbearbeitung zurück zu greifen.
Unabhängig hiervon ist aktuell ein Trend zu verzeichnen, der wieder hin zur Nassbearbeitung geht.
Problematisch ist die Trockenbearbeitung und MMS bei hochwarmfesten Legierungen oder Titan.
Bei diesen Materialien wird der Kühlschmierstoff für den Abtransport der Wärme aus der Bearbeitungszone benötigt.
Zudem wird die Hochdruckkühlung in vielen Fällen auch benötigt, um an der Schneide den Spanbruch zu optimieren.
Paso bietet hier verschieden Lösungen an:
• in der einfachsten Form und Ausführung wird eine Edelstahlwanne auf der Grundplatte der Maschine montiert.
Umlaufende Ablaufrinnen am Maschinentisch mit Übergang auf die Wanne der Grundplatte bringen die Flüssigkeit durch integrierte Siebe in den Auffangbehälter.
Eine Tauchpumpe befördert die Flüssigkeit in einem Kreislauf.
• in der "high end" Ausbaustufe stehen Lösungen mit bereits in der Grundplatte der Maschine integrierten Ablaufflächen oder integrierten Ablaufkanälen zur Verfügung.
Ebenfalls gibt es Lösungen mit bereits im Unterbau der Maschine integriertem Filtersystem.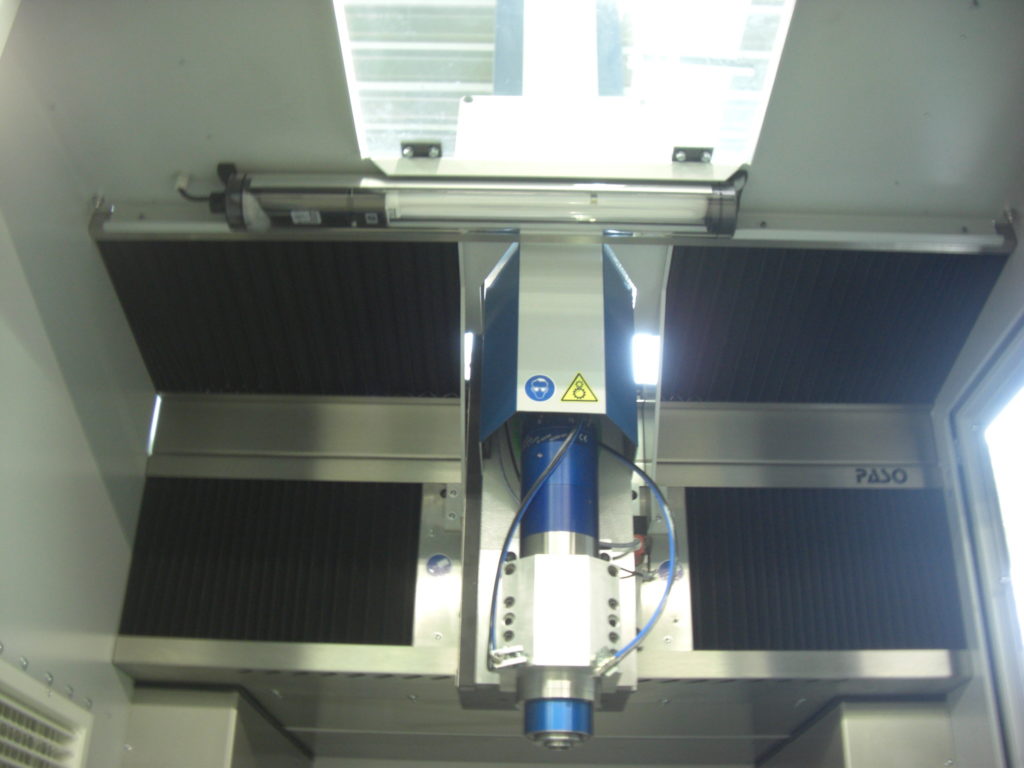 Option Protected
Anwendungen und Bearbeitungsaufgaben können es erforderlich machen, dass die Umhausung komplett geschlossen ist.
Dies z. B. bei der Bearbeitung abrasiver Werkstoffe, wie z. B. Graphit oder Hochleistungskeramik.
Hier ist besonders der Bereich nach oben hin, dem "Dach" der Umhausung, gemeint.
Paso bietet hier entsprechende Lösungen an:
• komplett geschlossen Umhausung mit zusätzlichen Faltenbälgen im Bereich des Maschinendaches
• Überdruckbelüftung der Führungssysteme
• Vorbereitung für einen gezielten Luftstrom innerhalb der Umhausung durch das Prinzip "Saugen & Blasen".
Durch dieses Prinzip wird ein Unterdruck innerhalb des Bearbeitungsraumes hergestellt und durch eine entsprechende Absaugvorrichtung werden sämtliche Späne und Stäube weggesaugt.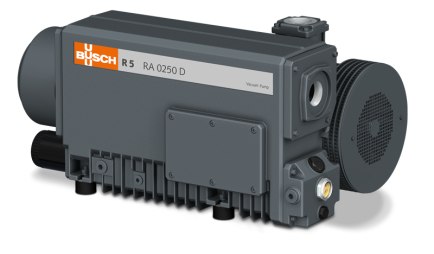 Vacuum Units
For holding workpieces, for the processing of vacuum technology is used.
The complete system consists of the actual vacuum system, the vacuum table and the vacuum unit.
The vacuum unit is usually oil-lubricated rotary vane vacuum pumps.
Depending on the work areas of the vacuum systems and the required nominal suction capacity, Paso offers the optimal solutions.